For most of us, buying a new mattress happens very rarely. Generally, the parents make that decision when we are infants. We spend our teenage in the same mattress; our lives in universities are meshed with a lot of worries, but buying a mattress is not one of them since the college dorms come fitted with twin XL beds. 
Generally, we decide to shop for a new mattress when adulting starts. Starting a new job in a new city, living alone, starting a new life with a partner, or raising kids - all of these are adulting milestones. At such points in life, we tend to buy our own bedding and replace a mattress when the old one gets worn out.
That's when it hits - how to measure a mattress? Don't worry; we got you covered.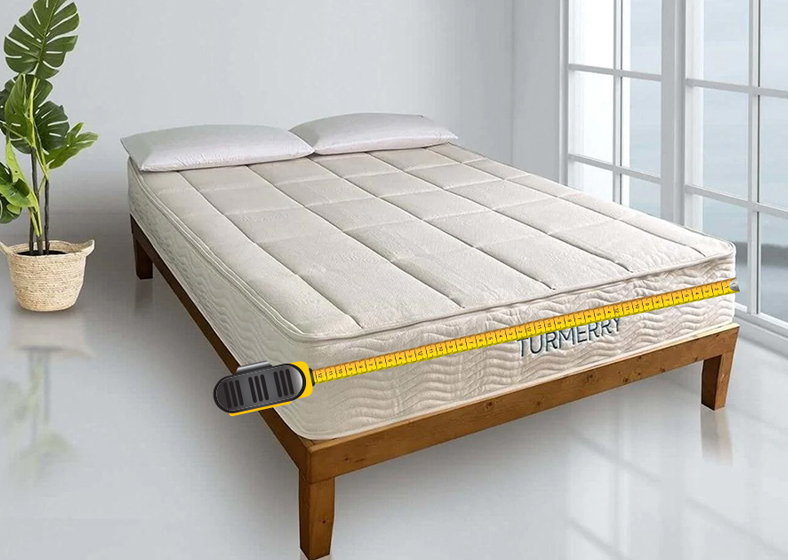 How to measure the dimensions of the bed?
Taking a mattress's measurements requires two things -
A well-functioning measuring tape with a hooked end.
You are to be present there to measure the bed!
Yup, it's that easy.
So, with the help of the measuring tape, you will want to measure the width and length of the mattress.
Length
The length of a mattress is the dimension that decides how tall a person can sleep on it. If you are still unsure which side the length is, just know that the longer side is the length - it ensures that you can sleep stretched out on the bed.
Now, you have to position your tape at one end of the bed such that the end is hooked onto the outermost edge of the mattress. From there, keep going until you reach the other extreme edge of the mattress.
So, the tape measure that you get - from one extreme edge to the other - will give you the mattress's length.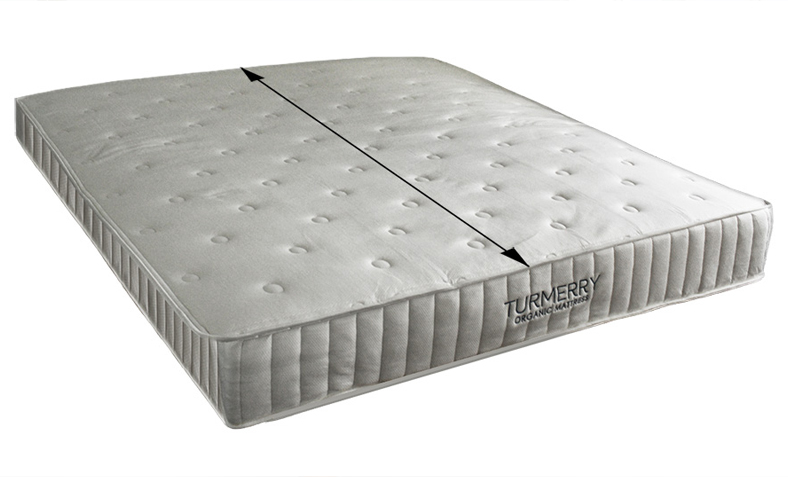 Width
The width of the mattress is the shortest distance between two edges. The mattress's capacity to accommodate sleepers depends on its width.
To find the width follow the same process as you did for the length. In this case, you have to attach the end of the tape to one extreme edge of the mattress and drag it till you reach the other edge.
Jot down the marking from the measuring tape, and now you will have your mattress width as well as the length.
As a rule of thumb, the width of a mattress will always be equal to or less than the length of the mattress. In the case of regular rectangular mattresses, the width will always be less than the length. But in case of square-size mattresses, the length will be similar to the width of the mattress.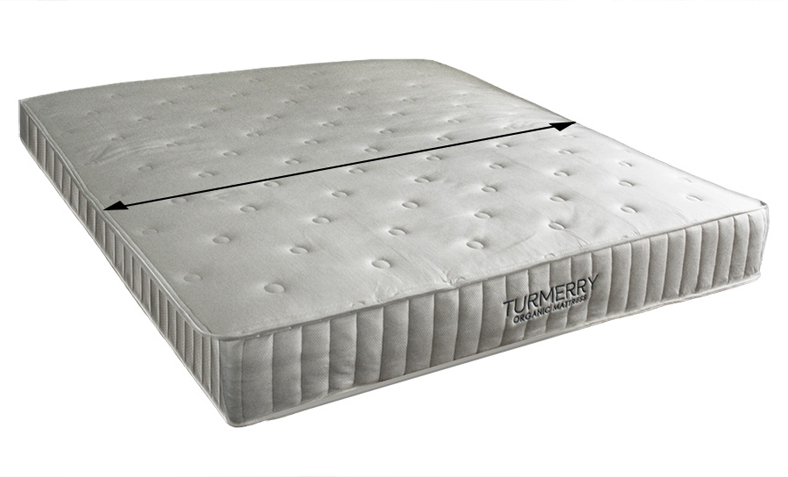 Thickness
Did you think mattress measurement is complete when you know the length and breadth? Nope! There is still another important dimension you have to measure - thickness.
Thickness decides the effective functionality between a shock-absorbing or pain-relieving mattress from a stiff one. But thickness is important in this case because with the complete knowledge of mattress measurements, you will want to buy bedding - sheets, blankets, comforters, or maybe upgrade your old mattress topper to a good one.
To measure thickness, focus your attention on the bottom part of the mattress. Attach your measuring tape to the lowest part and from there, drag it to the topmost part of the mattress - the measurement you get is the mattress's depth.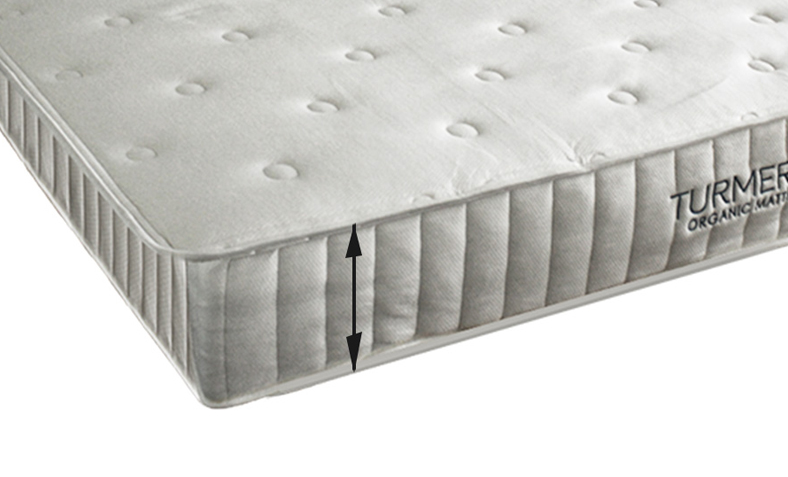 Measuring for bedding accessories
Bedding such as sheets, blankets, duvets, comforters, and pillows are the essential bedding accessories. You can customize all these items to suit your preferences; when coupled with the right size mattress, you will want to call it a day as early as possible.
Sheets for twin, queen, king, and full mattresses are readily available, and they are generally a little bigger than the mattresses themselves. Thus sheets are designed to be bigger than the bed frames and mattresses so that they can be tucked under the mattress if someone prefers, else they can be kept hanging.
If you don't want a bed frame, you can go for another set of bedding accessories - mattress foundations and box springs. While the box spring is useful only if you have an innerspring mattress - it is compatible with all mattress sizes as long as the mattress is made of innerspring. If you try to use box spring with generic styles like California king mattress, twin xl mattress, queen mattress, king mattress, or split king mattress, it will be a mismatch with the mattresses if they are not innerspring type. A box spring has the same size as the mattress, so you can buy it with ease if you know your mattress size.
Now, mattress foundations are reliable structures that provide support to the mattress style of any mattress type - be it hybrid, innerspring, latex, or memory foam. But the mattress foundations are also slightly bigger than the mattress. In order to know which foundation suits your bed, you need to measure the dimensions of your mattress.
Why measure a mattress's dimensions?
You need to measure your mattress dimensions so that you can buy the right size bedding like - sheets, duvets, comforters, mattress toppings, mattress pads, etc.
Bedding accessories like platform beds, box springs, mattress encasements, etc., are confusing to buy unless you are aware of your mattress sizes.
The commonly known mattresses and their dimensions
Let's introduce you to the common mattress styles and their sizes.
Crib
A crib-size mattress is made to fit the crib beds of infants and toddlers. As soon they are big enough to walk and tall enough to jump, you need to tuck away the crib bed and the mattress and give them their big beds fitted with twin or full mattresses. A standard crib mattress is 27 ¼ inches x 51 ⅝ inches
Twin
A twin mattress is a budget mattress and hence a popular choice in American households. You can use a twin mattress to furnish the adult twin bed or furnish your child's bedroom. A twin mattress is 38 inches wide and 75 inches long - so an average-sized adult who happens to be about 6 feet tall will sleep comfortably on a twin bed. Twin mattresses also fit nicely in bunk beds.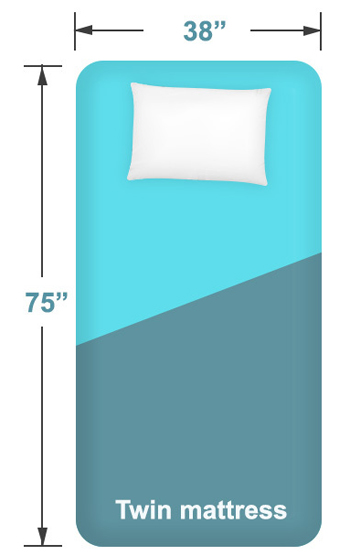 Twin XL
The twin XL is the bigger size of the twin mattress; it is 38 inches wide and 80 inches long - just 5 inches longer than the twin mattress. Twin XL mattresses are widely popular, but you won't find twin XL beds commonly in households unless you are a family of very tall people. Generally, you can find that college dorm rooms are fitted with twin XL mattresses to accommodate a wide range of students - from regular sleepers to taller sleepers.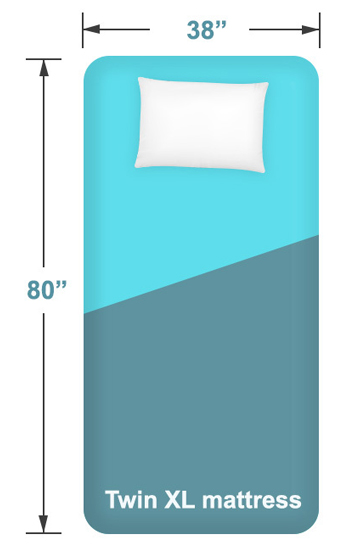 Full
The full mattress, also known as the double bed, measures 54 inches x 75 inches and is wide enough to give adequate sleep to a single adult. The full mattress is great for single people who like to sleep alone or with a pet or for children's bedrooms.
Queen
Queen mattresses are the couple's bed - in fact, it is known by the moniker all over the US. Its tape measure is 60 inches wide and 80 inches long; from the dimensions, you can gather that it has cozy enough space for two people and is long enough to accommodate tall people - 6 ft 8 inches, to be precise!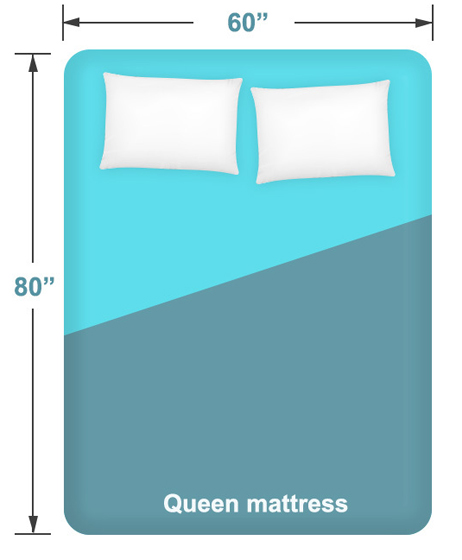 King Bed
The standard king mattress is a good size for small families and a great one for couples. By tape measure, a king is 72 inches wide and 80 inches long; thus, the king bed provides ample space for couples to sleep together with their pets or have extra space while sleeping. When it comes to small families, it may so happen that kids feel like snuggling with their parents - the king bed welcomes visitors at night without disturbing the sleep comfort of the intended sleepers.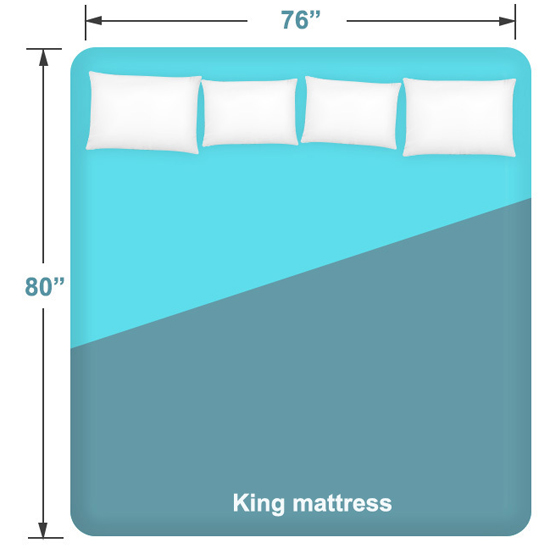 California King
The California king mattress is a variant of the king-style mattress; it is 72 inches wide and 84 inches tall! California king mattresses have 4 inches of extra length as compared to the king mattress. Thus, California king beds offer incredible comfort for small size families and are necessary for very tall people. But no, it is not tall enough to fit Shaquille O'Neal!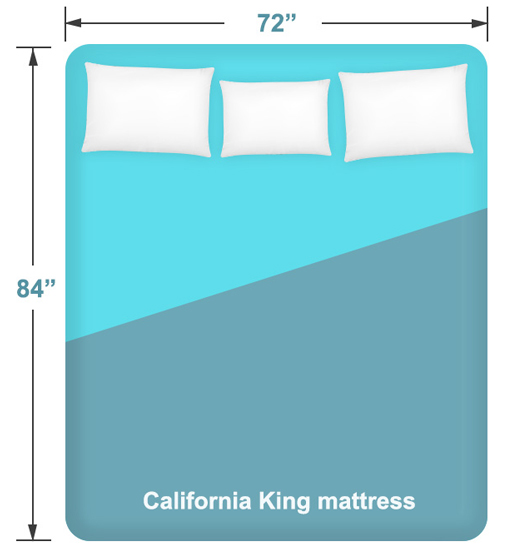 Split king
The split king bed is preferred by couples who have found a way to sleep together without disturbing their sleep preferences. This is because a split king mattress consists of two twin XL mattresses, pushed side by side, each 36 inches wide and 80 inches long! You can customize each mattress to suit your preference for firmness, motion isolation, etc.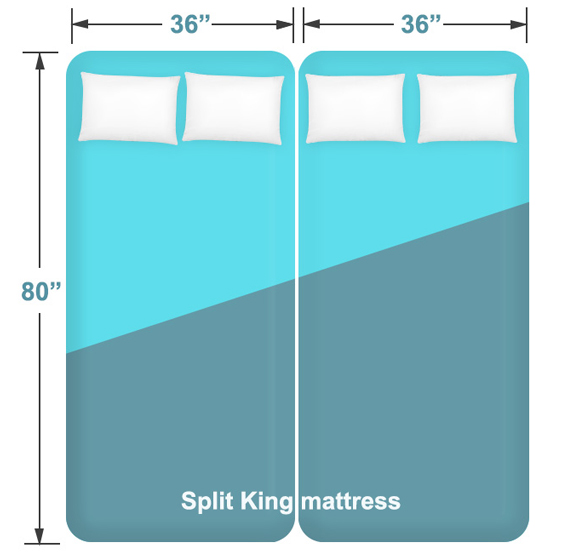 Not-so-common mattress sizes
Apart from the mattress sizes listed above, the other mattresses you see listed in the table below are either not commonly used or found.
For e.g., the twin XL mattress is a popular mattress, but its popularity is limited to college dorm rooms and dorm rooms in general. RV-style mattresses like the RV king and the RV queen are built to bit RV vehicles, so they have a niche customer demand.
You'll never get oversized mattresses like the Wyoming king, Alaska King, Texas King, and Family XL in stock. These mattresses are custom-made, and you can buy them only if you get hold of a retailer who can get these for you.
All mattress dimensions
Here is a compilation of standard measurements of all the mattresses - popular and not so popular.
FAQs:
1. How do I know the size of my mattress?
If you are the one who bought the mattress, you can check the receipt or any tags that accompanied the mattress. The other option is to find the mattress's measurements.
2. What can you do if your mattress is smaller than the bed frame?
If the bed frame is bigger than the mattress, fitting will be an issue, but it won't disrupt your sleep health. Maybe you'll need to cover up the extra space with a few fancy bedding to divert attention from the mismatched size.
3. What is the most common bed size?
The Queen is the most widely sold mattress in the US. Thus, the queen mattress is the most common bed size.
4. Is a bed frame the same size as a mattress?
Bed frames are generally a couple of inches bigger than mattresses. This is because the bed frames are fitted with headboards, footboards, and bed edges which accounts for some additional increase in length and breadth.
5. Should you sit on the edge of a mattress?
We tend to sleep hogging the central space of any mattress, leaving some extra space around the sides. A mattress curves outward when pressure is focused on the center, leaving the sides unattended. In such cases, you can and should sit on the edge of a mattress to balance out the pressure distribution.
Related blog posts:
1. Twin Vs. Twin XL - Mattress Size Comparison
2. Sleeping Beauty - The Science Behind Beauty Sleep
3. How To Care For Your Latex Mattress?
4. Best Mattress Topper For Couples 2023
5. Duvet Or Comforter - How To Choose The Right bedding For You?
You will now be able to measure any mattress
Measuring a mattress is an easy process - to do it, you will need to separate the bedding from the bed and whip out that measuring tape. Once you have the dimensions - length, width, and thickness of the mattress noted down, you'll be able to buy any bedding accessories on your own.